I know a set of men who had a dream. They wanted to see every child in the world have access to a high-quality low-cost telescope. They wanted something that would show the rings of Saturn, survive a tumble down the stairs, and just keep revealing the sky night after night after night. This is a good dream; a dream inspired by the one laptop per child project. It is a dream that could be a reality, but it needs help. These men need you to dream with them and help their dream become a reality.
The Concept is Born
The Galileoscope project was launched about the time everyone realized the 2009 International Year of Astronomy idea was about to become a UN endorsed reality. Lead by Doug Arion, Rick Fienberg, and Steve Pompea, the Galileoscope telescope team gave themselves a goal of $10 per scope and set out to design. Like the original One Laptop Per Child goal of $100 per computer, they overshot a little bit. In this case, they came in at $20 per scope + shipping (or $15 to donate). Still not bad. See that image to the right? That was taken through a Galileoscope. These are systems with excellent optics.
The Problem
There is only 1 problem with the Galileoscope: No one can get one in a timely fashion unless, well, you go bid on this or this auction. Here's the reason for the problem: No one ever provided the start up money needed to produce that first batch of Galileoscopes. We are literally collecting money until we have enough to run a batch out of the factories, producing and shipping that batch, and collecting money for the next batch. At a minimum, we just needed one rich soul to come forward with $200k to turn the factories on and start producing scopes while we collected a round of orders. Ideally, we need just $500k to get a stock pile of scopes we can sell with 24-hour shipping, while incoming money goes to the next round of orders. But that large donation never came. That donor, that sponsor, that dreamer never stepped forward. So these men with a dream, they put in their own money to get this started, and they asked the world – Will you buy a scope? We're sorry, but it could take 6-months to get it. But will you buy a scope please?
Originally, we'd all imagined millions of orders – both personal purchases and donations for kids everywhere in the world. Just like the original One Laptop Per Child, we have the option to Buy-One-Give-One. These scopes are the price of a double-CD. Why not think they'd sell like the latest top 40 hit? With orders like that, we projected we could turn on more assembly lines, speed up the rate of production, and keep maybe not ahead, but at least keep up. But those millions of orders never came. Everyone it seemed was waiting to see one, touch one, and play with one (or to at least have overnight delivery). But without those millions, that one touchable one never came to the vast majority of people who were thinking "Maybe I'd buy one. I just want to see one first." They are coming to those who order, one by one a few hundred thousand scattered across the world at a time. They are coming. You may have yours (comment if you do?), and I know mine are coming soon.
A Solution
The one thing this project needs to overcome the delivery problem is funding. Galileoscope itself isn't a non-profit company (simply because they didn't spend all the extra money to become a not-for-profit. It costs almost $1000 in fees to set up a not-for-profit for something like Galileoscope!), so they either need help from other organizations or help from someone who doesn't care about tax deductions. Bottom line – they need finacial help, and while I haven't found that couple hundred thousand dollar donor, I'm hoping to find maybe a couple thousand dollars of help.
This is where you, the casts of Battlestar Galactica and Ghost Hunters International, as well as the wonderful Felicia Day and the new non-profit Astrosphere New Media all come into play. At Dragon*Con in Atlanta on Labor Day weekend, I got pictures of a few famous people (and a few cool costumes) with a Galileoscope. When (thanks to the great Phil Plait!) I asked Felicia Day for her photo, she just signed the box. w00t! An idea was born! We'd get signatures and give someone the chance to have the ultimate geek gift of SyFy geekery. Our wonderful volunteer Laura S. took a box, and I took a box, and between us we cornered the cast of Ghost Hunters International and Battlestar Galactica. Two Galileoscopes. Two sets of different signatures. Two possibilities to make scopes for kids a reality.  The proceeds from this scope will buy scopes for needy kids, and with each scope purchased we are a little closer to a production run.
An eBay Auction
Right now on eBay we have (through Astrosphere New Media Association) two charity auctions. All proceeds are tax deductible and Astrosphere will use the proceeds to buy scopes for needy kids. The auctions are open until October 1st around 7am Pacific / 10am Eastern / 3pm London. You now have the chance to have your own scope, your own geek signatures, and to do a good thing all at once.
Now, I know there is the potential for the winning bid to not be divisible evenly by the $15 a scope costs, so I'm going to step forward and say I'll personally round the bid amount up to buy that last telescope (I'm just a state university professor, so I can't do anything cool like match the winning bids, but I would if I could, and if you can, would you please?) Right now, the two scopes are at
Scope 1: Signed by Felicia Day, Michael Hogan, Kandyse McClure, Alessandro Juliani, Mary McDonnell, Michael Trucco, Kate Vernon, Luciano Carro, Richard Hatch, and the BSG Science Advisor Kevin Grazier (see picture). Current Bid: $152!

Scope 2: Signed by Ghost Hunters International Joe Chin, JC Howell, Dustin Pari, Dave Tango, and 2 more (see picture). Current Bid: $66!
This means if the bidding ended right now there would be 15 scopes for kids who may never have seen the sky with anything other than their eyes. That's awesome.
But can't we do better?
Here is my challenge: Fandoms – Ghost Hunter Fans, The Guild / Dr Horrible Fans + Battlestar Galactica Fans – which of you can get the most scopes into the hands of the most kids? Show your fandom colors by bidding high and lending a helping hand.
Please?
We have 9 days left. Spread the word. Spread this post. Help gets scopes for kids. Help a dream.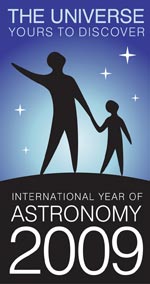 Remember: The Universe is Yours to Discover.